The scaffolding plank possesses great capacity in anti-deformity
The aluminum scaffold plank from TIANDI is superiorly designed with regularly inclined holes on its surface and I-shaped side, which contributes to its efficient performance in the anti-deformity along with anti-skid.
The scoffolding plank, as has lead an international trend in the global construction instruments,brings an extensive turning point to improve the company's construction aptitude.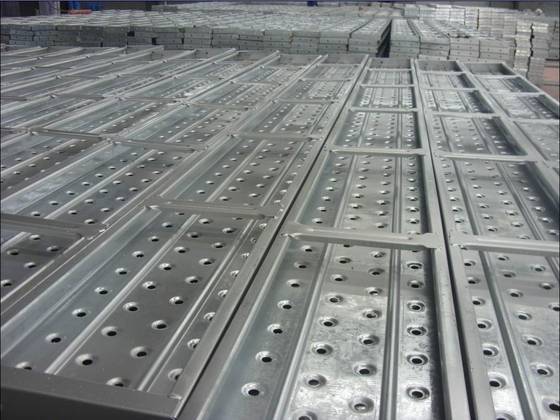 The advantages of the scaffolding planks:
1. be galvanized with the capacity of fireproof and anti-corrosive, a life expectancy of 5 years.
2. be designed with reinforced steel, enhancing the scaffold boards'load capacity and solving the issue of water drainage of board; be suitable to be operated under different weather conditions.
3. have patented design on the punching holes to avoid skipping and relieve the weights of the scaffolding planks as well as the scaffold itself.
4. have ideal covering of the fracture surfaces on the scaffolding boards, enhancing its capacity in loading along with anti-deformity.
5. have vertically folding with smaller welding crack design to insure the strength of the scaffold planks.
The customers are provided with multiple choices in the scaffolding boards with different supporting capacity in-cluding the horizontal brace type, squared brace type and staircased brace type.

Sign up for our newsletter to stay up-to-date with our promotions, discounts, sales, and special offers.