One of the most commonly used scaffolding fitting
Various types and sizes, there are so many kinds of scaffolding fitting in the market today. The most commonly used ones are coupler and fasteners. As for couplers, it is a small part, short pipe or tube, with a socket at one or both ends, plays the role to attach two pipes or tubes , welded (steel), brazed or soldered (copper, brass ) together.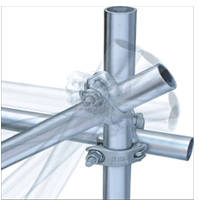 We finds several types of couplers:
British pressed angle coupler
British drop forged swivel coupler
Japanese pressed swivel coupler
British pressed outer joint pin
British pressed board retaining coupler
Chinese casting angle coupler
Chinese casting inner joint pin
These scaffolding fittings has a wide applications. They are helping to build a stable scaffold structure and being used in various other areas. Petrochemical/ Water Conservancy and Hydropower / Traffic Engineering / Civil Buildings / Ocean Engineering, their position can be found everywhere.

Sign up for our newsletter to stay up-to-date with our promotions, discounts, sales, and special offers.